Acting Administrator Nawab Deen changing lives of orphans
Normal Children need various types of support, ranging from those things necessary for survival, such as food and health care, to those interventions that will provide a better quality of life in the future such as education, psychosocial support and economic self-sufficiency. In an ideal world, all children should have access to all types of high quality services. However, in this real world many children, such as orphans and underprivileged are deprived of even basic necessities of life. It is the right of every child to be protected, taken care of physically, psychologically and emotionally. And these rights ought not to change when they become orphans, for which they are not at fault.
Orphans are said to be children who are socially and familiarly unprotected because their parents have passed on. Most children in orphanages around the world aren't orphans in the strict sense of the word. The majority has at least 1 living parent. Orphans and other children that were separated from their biological parents or families are often housed in an orphanage, a residential institution devoted to their care. In social terms, they are said to be an underprivileged group.
A United Nations survey revealed that Pakistan is home to some 4.6 million orphan children, out of which a majority the population is aged below 17 years. Owing to the unavailability of proper parental support and various other socio-economic factors, the said children remain one of the most vulnerable segments of society, often deprived of health, education and other fundamental child rights. Despite the high number of Pakistan's orphan population, the country could barely accommodate 3,500 orphans across the Pakistan in government shelter homes. As a result of which, thousands of orphans may remain on the waiting lists for years, for space in a handful of government-run orphanages in the country.
In a bid to cater a large number of orphans, many local non-governmental organizations have come forward and established orphan houses. One such is Anjuman e Hayatul Islam (AHI), which was initiated a few decades ago. AHI is being registered with Social Welfare Department and Department of Industries, Societies Act-1860. Anjuman houses an orphanage at its main premise. Besides it, AHI is running a high school for boys and girls; and a women degree college both located at NIPA, Gulshan-e-Iqbal.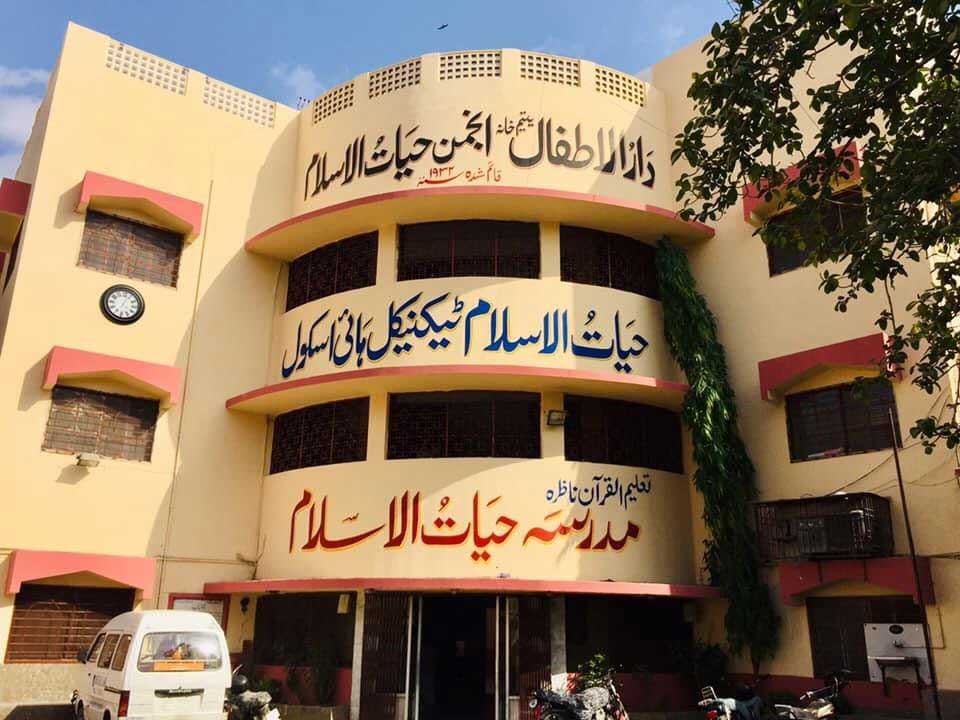 Though AHI collected millions of rupees in shape of Zakat and donations from donors over decades but the orphans' house was being maintained and run on a very old-fashioned, pathetic and mismanaged manner. Till 2017, it was more pressing that though AIH was enjoying the huge charity and kindness of public and their full-hearted support, but despite so much money and resources, the management has no interest in well-being of the orphan children. In fact, most of the orphans' donations were embezzled over the years. With such shocking lack of concern, it is not a surprise that there was a minimal investment on food, education, medical care and infrastructure. Unhygienic and unkempt kitchens, cramped accommodation, unhealthy diet, lack of modern education, lack of medical facilities were the common complaints. This was all exacerbated by the lack of well-trained, educated management who were not interested in helpless homeless children and their distinctive needs.
When these reports of mismanagement and corruption were brought under notice of High Court Sindh, SHC appointed Nawab Deen from Sindh Social Welfare Department as acting administrator of Anjuman Hayatul Islam. From there onwards in 2017, Nawab Deen, acting administrator of AIH, dedicated all his efforts to give orphans their due rights and took all measures to transform AIH from an orphanage into modern and better care centre for orphan children to prepare them for the challenges of future. Nawab Deen personally believed that caring for the orphans was a very important part of the religion of Islam, so much so that the Prophet said 'I and whoever cares for the orphans are bound as one.'
With his 36 years of experience of administration and managing thousands of NGOs in social welfare department, his extra-ordinary leadership qualities, Nawab Deen took the challenge of transforming pathetic orphan house with renewed zeal and vision. As administrator, Nawab pulled all AIH resources to build a befitting home to cater for the orphans and other vulnerable children of society. Under dynamic supervision of his superiors at social welfare, he envisaged mainstreaming these children in the national building by providing care, support and protection at AIH.
Nawab Deen informed that orphanage home provides care, support and protection to 75 orphans, with the provision of extending capacity to 150 children now. AIH main premise houses school with full faculty, Madrissah cum Masjid, Vocational and training centre, and a dispensary, where a doctor is conducting health check-up and provides medicines. It provides welfare services like free lodging, boarding, health and recreation with in-house cook, full time attendants, full time watchmen and guards. All the inmates are being provided with 3 time's nutritious food, set of books and sets of uniforms and regular dresses. Every child has opportunity for indoor and out-door recreation and play facilities along with training in crafts and hobbies.
Making a difference in orphans' lives:
While talking to the writer, Nawab Deen says "My whole aim is to mainstream these orphans or single parent children. One must understand their pain; they have a childhood which most of the children never experienced. We help them to become useful members of the society. I and my superiors try to encourage these orphans to kindle their potential by providing creative opportunities by making available a secure place these children can play and enjoy their childhood. We try to ensure their basic needs are met and they enter into a new life through gaining knowledge, vocational skills and life skills. We try to create an atmosphere love and affection as if their parents would have given them."
After taking the charge of this institution, I fully focused on revamping and restructuring of poor infrastructure, providing quality food and education, Nawab Deen noted. Following areas are being addressed over the three years:
1- FOOD AND HEALTHY ENVIRONMENT: Before I took the charge, said administrator, children were served food without taking into account nutrition and health concerns. Kitchen was in worst condition. I rebuilt entire dining hall making it spacious and airy. Wash basins and fans are being installed. Kitchen's new cutlery and utensils are arranged properly. A healthy and innovative menu has been designed keeping in view the dietary and nutrition concerns for children.
2- HEALTH CARE: A special in house 3-bed clinic has been redesigned for children where a doctor is available. The need for health care includes childhood immunizations and vitamin supplements for children, routine health care check-ups for all.
3- EDUCATION ON MODERN LINES: "Once you are able to equip them educationally, you neither make them a useful citizen of society, who does not join criminal gangs nor rebel against society," emphasized Nawab Deen. Most of our children are being admitted AIH Public High School located at NIPA, where they are being imparted education in English. Their school fees are being paid by AIH. They are being provided one set of school syllabus and 2sets of uniform every year. We have teaching facilities in school situated in our main campus. Apart from this school, which provide free of cost education to the poor children of vicinity, we have a full technical and vocational centre for the growing children who want to earn skill and craft in technical field like electric machine repair, carpeting, plumbing courses etc. I have also arranged tuitions for children in basic subjects in evening. We have full fledged Madrissah with religious teachers to impart Quran and Islamic education.
4- COUNSELLING SESSIONS: To increase their confidence level and become good asset for the community and they develop physically, psychologically, becoming productive citizens of the society, all children are offered counseling sessions by veteran counselors and teachers.
5- TRANSPORTATION: AIH was in a dire need of proper vehicles for children and those which were available were all not properly maintained. For this purpose, I as administrator bought a new Hiace for children and all old vehicles are being repaired. These vehicles are being used for the transportation of children from orphanage to school located at NIPA. During off days, the vehicle is being used for the transportation of children at recreational spots.
6- RECREATIONAL ACTIVITIES: To freshen up the minds of children, several recreational activities are being arranged indoor and outside the campus, said administrator Nawab Deen. In door activities include play room for children under 10 and a full gym/sports facility for grown-up children. In door activities also include birthdays, Defence and Independence Day celebrations. Chocolate, fruit, game theme parties and competitions are also being organised at the premise of AIH. Outdoor recreational activities include Farm House and water park picnics, cricket, badminton and kabaddi tournaments. Children are being taken on Pakistan tour once in a year.
7- STIPEND: Apart from fulfilling their all daily basic needs, children are being regular stipend of Rs 250/- each weekly, told Nawab Deen.
8- COMPUTER LAB: To make children computer literate and to make them competitive with modern day life, I took the decision to arrange a computer lab for which new computers were brought along the peripherals, noted the administrator.
Research has shown that it is always better for children to be raised by family. Nothing beats a nurturing family environment in the development of a child. However, institutionalized care like orphanages has its place in our society. These care centers do not only serve as hope for the children, but it also serve as new lease of life to the inmates of the orphanages. If managed and run properly, these orphan houses create sense of belonging among these destitute children and they feel like other advantaged children. The Prophet Mohammad sallal lahou alleh wasalam himself was an orphan, and there are so many verses of the Quran that talk about caring for the orphans, providing a home for them, allowing them to grow in an environment of love and acceptance for them to have quality education, and not become a burden on the society. However, visionary people like Nawab Deen are a very few in this selfish and mortal world, who would leave their mark by doing something great and taking initiative following the guidelines of Islam and taking care of orphans.