Metro Matters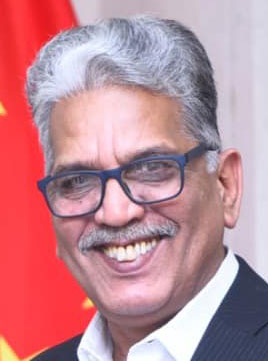 Bilawal visits Chinese Consulate in Karachi to condole death of Comrade Jiang Zemin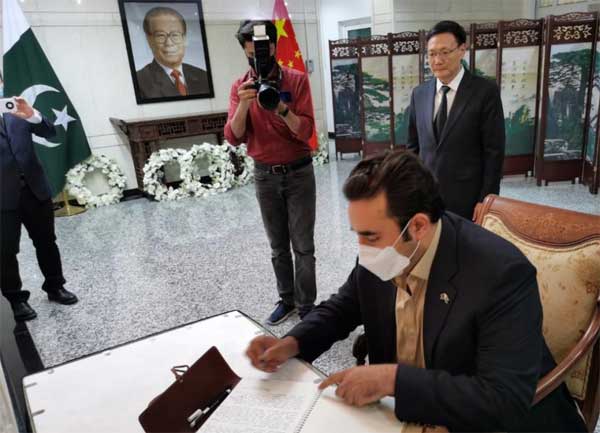 Metro Matters
Federal Minister for Foreign Affairs and Chairman Pakistan People's Party (PPP) Bilawal Bhutto Zardari visited the Chinese Consulate General in Karachi to mourn Comrade Jiang Zemin during the reported week. He was received by the Consul General of China at Karachi Li Bijian.
Late Jiang Zemin was a Chinese politician who served as general secretary of the Chinese Communist Party from 1989 to 2002, as chairman of the Central Military Commission from 1989 to 2004, and as president of China from 1993 to 2003. Jiang was the paramount leader of China from 1989 to 2002. He died on November 30, 2022.
Bilawal stood in front of the portrait of Comrade Jiang Zemin to pay tribute and wrote a eulogy in the condolence book and then held a brief meeting with Consul General Li Bijian. Yang Guangyuan, Economic and Commercial Counselor of the Consulate General and others also attended the condolence meeting.
On behalf of the Pakistani government and people, Bilawal Bhutto expressed deep condolences over the death of Comrade Jiang Zemin and sincere condolences to his family. He expressed that the death of Comrade Jiang Zemin is an immeasurable loss for China, and it is also an immeasurable loss for Pakistan. The Pakistani side is willing to deepen practical cooperation in various fields in accordance with the important consensus reached by the leaders of the two countries and push the Pakistan-China all-weather strategic cooperative partnership to a new level.
Consul General Li thanked Foreign Minister Bilawal Bhutto for coming to express condolences and said that he would respond to the call of the CPC Central Committee, turn grief into strength, inherit Comrade Jiang Zemin's behest, express our condolences with practical actions, and promote the steady and long-term development of China-Pakistan relations.
Indonesian Consulate General in Karachi hosts drawing contest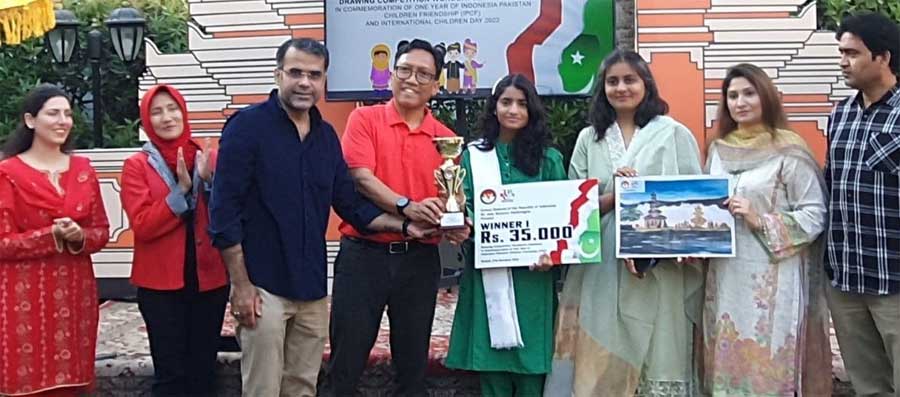 Metro Matters
In commemoration of International Children's Day and one year of the establishment of the Indonesia-Pakistan Children Friendship the Indonesian Consulate General in Karachi held a drawing competition for elementary school children in Karachi and presented awards to the winners of the competition, during the week.
In his remarks, the Indonesian Consul General in Karachi, Dr June Kuncoro Hadiningrat said that the IPCF was formed as part of an effort to get to know each other from an early age considering that these children will become the future generation who will strengthen people-to-people contact between Indonesia and Pakistan.
Also present to open the event was Deputy Head of Protocol Camp Office MoFA Pakistan, Saqib Rauf, who in his speech expressed his appreciation to the Indonesian Consulate General in Karachi for his initiative to carry out diplomacy and even reach out to children.
The drawing competition was specifically for Pakistani children who drew objects about Indonesia, with a total of 52 participants from various elementary schools in Karachi.
Meanwhile, Indonesian children also enlivened the activity with 12 paintings.
Present at the announcement of the winners of the competition were 3 (three) winners, parents, and the Principal of each student who won the competition. The drawing competition was won by: 1st Place (35,000 Rupees) – Eman Hussain from Seeds School Johar branch; 2nd Place (20,000 Rupees) – Mahrosh Asim from Orchid School Gulshan branch; and 3rd Place (15,000 Rupees): – Muhammad Sufiyan bin Noman from Seeds School Johar branch.
Indus Hospital is anexemplary institute: Governor Tessori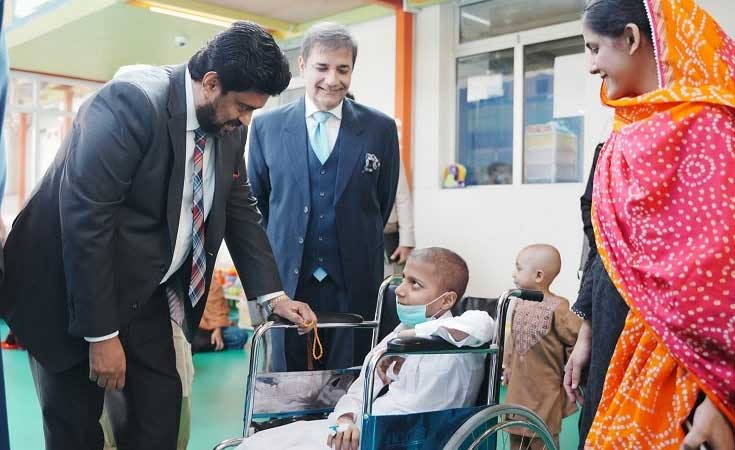 Metro Matters
Governor Sindh Kamran Khan Tessori has said that Indus hospital was providing state-of-the-art facilities for patients of various decease and its services have helped masses to acquire excellent treatment with utmost care.
This was stated by him said during his visit to Indus hospital during the week. Governor Sindh went around different wards of the hospital and inspected the facilities available there. He also asked patients about their treatment and the facilities being provided to them.
Governor Sindh said Indus hospital was a role model for other health facilities in the city and they should follow the standards set by Dr Abdul Bari and his team of professionals here. Patients of cardiac ailments and other diseases have the utmost confidence in Indus Hospital and they rate this health institution amongst the best, he added.
Governor Sindh while lauding the services of Dr Abdul Bari said that due to his sincere efforts, this hospital has become an example for others to follow. Such institutions are a helping hand for the Government in providing better health care to especially those who are unable to afford treatment expenses.