Seerat-un-Nabi Conference held at ILMA Univ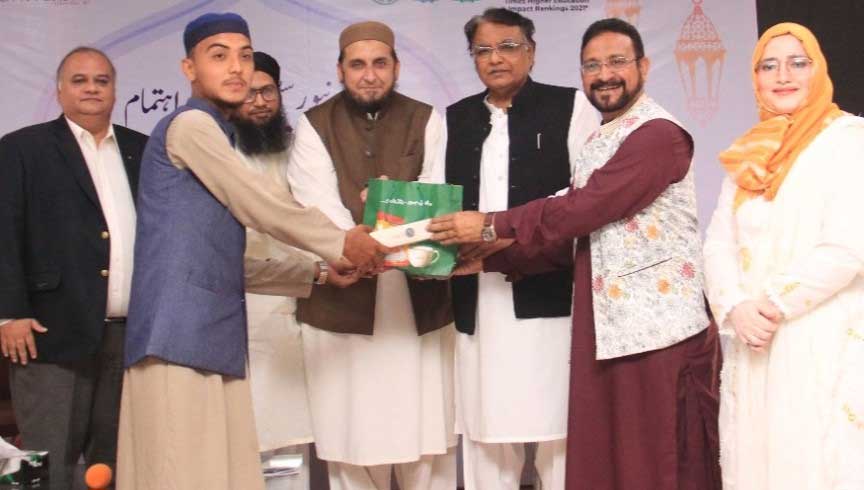 ILMA University hosted Seerat-un-Nabi (SAAW) Conference at its Main Campus in Karachi, during the week. The conference included panel discussion, Qiraat, Naat and Debate competitions.
Prof. Dr. Muhammad Ahmed Qadri was the chief guest of the Conference. In his address on the occasion, he highlighted the salient features of Khatimun Nabiyeen Hazrat Muhammad's (SAAW) teachings and emphasized on the need to motivate the younger generation to adopt and practice the teachings of Hazrat Muhammad (SAAW).
Mufti Muhammad Najeeb Khan and Hafiz Muhammad Fazalur Rehman Farooqi were the guests of honour who also spoke on the occasion and highlighted the need to understand the true Islam and teachings of Hazrat Muhammad (SAAW). They encouraged the students to study various renowned books and increase their area of spiritual focus.
Acting Dean Faculty of Media & Design, ILMA University, Dr. Yasmeen Sultana hosted the Conference. A large number of students from different departments of ILMA were present on the occasion. The aim of the Conference was to enlighten the different aspects of Holy Prophet Hazrat Muhammad's (SAAW) life.
Winners of Qirat and Naat Competitions were presented gifts by the chief guest and guests of honor.
Conference souvenirs and gift hampers by Vital Tea were presented to the guests by Vice Chancellor ILMA University Prof. Mansooruz Zafar Dawood, Registrar ILMA University Syed Kashif Rafi and Acting Dean Faculty of Media & Design ILMA University Dr. Yasmeen Sultana.
Vote of Thanks was presented by the Vice Chancellor ILMA University Prof. Mansooruz Zafar Dawood.
PBG formed to play its role in welfare of business community

Prominent businessman and Former Senior Vice President KATI Faraz-ur-Rehman hosted a dinner in honor of the business community during the week in which the Pakistan Business Group was founded.
The chief guest of the function was Dr. Saifuddin Junejo, Chairman of the Export Processing Zones Authority (EPZA). After the presentation at the dinner, the establishment of the Pakistan Business Group was formally announced.
Faraz-ur-Rehman said that the purpose of the Pakistan Business Group is to play its role in the welfare of Pakistan. He said that whether they are small businessmen or new businessmen, they want to provide a platform in which they can have the support of senior entrepreneurs and an easy opportunity to move towards development. "We will also promote CSR activities and tell new entrants how to help them in business," he added.
Further, he said that the Pakistan Business Group welcomes businessmen from all walks of life and can join the Pakistan Business Group. The number of memberships seems to be increasing in the initial stages.
Saifuddin Junejo congratulated Faraz-ur-Rehman, Chairman of Pakistan Business Group, and his team for creating a new platform for the welfare of entrepreneurs. He assured his full patronage and co-operation on the occasion. Saifuddin said that in the Department of Democracy, wherever traders face problems, they will render their full services.
Shakeel Ahmed Dhingra, Mohammad Fawad Sheikh, Mohammad Sajid, and Sheikh Mudassir also addressed the function and assured us that we are by the side of Faraz-ur-Rehman in this Endeavor.
He further said that Faraz-ur-Rehman is my childhood friend and I know him. That he has been a leader since childhood, and he has done what he said, and I think he will surely fulfill the commitment. The dignitaries of the city attended the function in large numbers and appreciated the new platform created for the traders and expressed their determination to support Faraz-ur-Rehman and his team in carrying out this process.
JF Group hosts Sehri for the members of RCK Nexus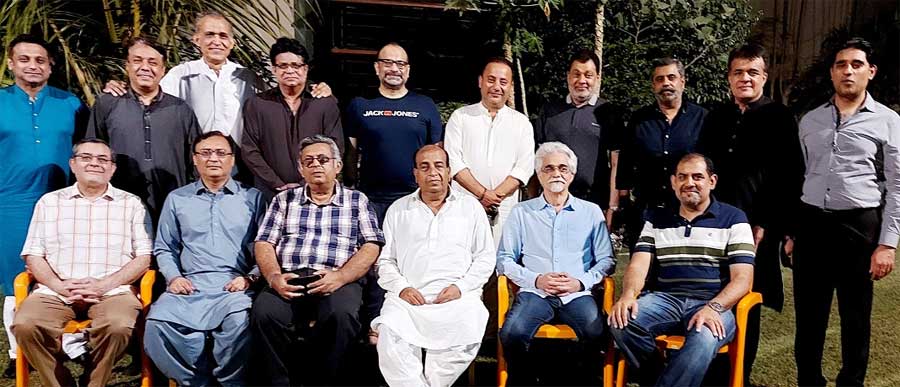 Mohammad Fawad Sheikh Group Director JF Group of Companies hosted Sehri for members of RCK Nexus at their residency, during the week.
Muhammad Ali Haider President Rotary Club of Karachi Nexus, Aslam Khaliq Founder & Executive Secretary Rotary Club of Karachi Nexus, Zubair Baweja Managing Director Regent Plaza, Shoaib Arif President & CEO Sindh Microfinance Bank Ltd., Chaudhry Ansar Javed Chief Executive Ashrafi Group, Asad Ullah Larik Additional Collector Customs Pakistan Customs, Junaid Hamid CEO & Curator ArtKaam, Sardar Humayun Rizwani Chairman Shahmeer Mines, Syed Khurram Anis CEO SKA Builders & Developers, Faisal Qamar Director CodoraApS (Codora.io) Denmark & Pakistan, Nadeem Najmi Managing Director Abaseen Construction Company (Pvt.), Abdul Salam Dadabhoy Director Dadabhoy Group, Raza Waqar CEO SS International, and Syed Turab Shah Chairman AZB Global Trade & Exhibitions attended the Sehri.